22 jóvenes celebridades que utilizan su fama para hablar a favor de los animales
Estos 22 jóvenes músicos y actores talentosos tienen algo en común: la compasión. Y saben que su fama puede ayudar a darles voz a quienes no la tienen.
1. Miley Cyrus
Happy world Vegan day!! go vegan not only for animals but all of the environment pic.twitter.com/9qj3icO3K5

— Miley Ray Cyrus (@MileyCyrus) November 1, 2016
La cantante y actriz de 25 años es vegana y nunca se ha negado a mostrar su
amor por los animales
y la comida de origen vegetal.
2. Liam Hemsworth
Hace unos años, el actor australiano de 28 años le dijo a 
Men's Fitness
 que se
había vuelto vegano
después de conocer la verdad sobre la explotación de los animales en las granjas. "Después de toda la información que reuní sobre el maltrato a los animales, no pude continuar comiendo carne", dijo. "Cuanto más sabía, más difícil era seguir haciéndolo".
3. Zendaya
La estrella de Disney de 21 años le
dijo a la revista
People
, "Mi razón principal para ser vegetariana es que soy amante de los animales, definitivamente NO porque me gusten las verduras".
4. Ariana Grande
La estrella del pop de 24 años
ha sido vegana durante mucho tiempo
. "Amo a los animales más de lo que amo a la mayoría de la gente, no es broma", dijo. "Pero soy una firme creyente en llevar una alimentación a base de plantas, una comida integral que puede expandir tu esperanza de vida y hacerte una persona más feliz".
5. Bella Thorne
Bella Thorne no teme mostrar lo que le importa. La actriz de 20 años habla a favor de los animales ya sea al presumir una deliciosa
pizza vegana
en Instagram o cuando
tuitea memes
de animales adorables.
6. Sofia Sisniega
La actriz mexicana de 28 años utiliza sus redes sociales para promover el respeto y la compasión a los animales. También participó en una campaña de MFA para pedirle a Walmart que dejara de abastecerse de huevos producidos por gallinas enjauladas.
7. Nikki Reed
Nikki Reed, la estrella 29 años que actuó en 
Crepúsculo
, ha usado su voz en muchas ocasiones para ayudar a los animales confinados en granjas. En 2015, ella y su esposo Ian Somerhalder
celebraron la aprobación de la Proposición 2
, una iniciativa electoral de California para reducir el sufrimiento de los animales confinados en granjas industriales.
8. Emma Kenney
La estrella de 18 años, que participa en la serie Shameless, es una apasionada activista por los animales. El año pasado, Kenney asistió a la Gala Hidden Heroes de MFA y narró el video Prisión de papel, que muestra la horrible realidad de la explotación de cerdos.
9. Daniella Monet
Conocida por su papel en la serie Victorious, de Nickelodeon, Daniella Monet, de 29 años, es una activista vegana muy comprometida. Ha colaborado con varias organizaciones de protección de animales, asistió a la Gala Hidden Heroes de MFA e incluso lanzó su propia serie de videos de comida vegana en Facebook. ¡Monet es una luchadora incansable a favor de los animales!
La adorable actriz vegana de 11 años ama a los animales y ha trabajado con innumerables organizaciones para prestar su voz a quienes no la tienen.
11. Mena Massoud
Fue elegido para interpretar al personaje principal en el remake de la película animada de Disney, 
Aladdin
. Al actor de 26 años el encanta
mostrar su deliciosa comida
a base de plantas en Instagram.
12. Madelaine Petsch
Mejor conocida por interpretar a la malvada Cheryl Blossom en la serie de televisión 
Riverdale
. En realidad, la actriz de 23 años es
vegana
y ha sido amante de los animales toda su vida.
13. Nathalie Emmanuel
14. Zoe Kravitz
15. Jaden Smith
El hijo de Will y Jada Pinkett Smith anunció en Twitter el año pasado que
era vegetariano
. A principios de este año, el chico de 19 años le
dijo a 
Food & Wine
que no consumía "carne por las repercusiones ambientales".
16. Sadie Sink
Probablemente la conozcas como la más
reciente estrella en el exitoso programa de Netflix 
Stranger Things
, pero ¿sabías que esta joven de 15 años también es vegana? En una entrevista reciente, señaló: "En realidad, fui vegetariana durante aproximadamente un año y cuando estaba trabajando en The Glass Castle con Woody Harrelson, él y su familia me inspiraron para convertirme en vegana".
17. Hayley Marie Norman
Esta actriz de 29 años es conocida por sus papeles en las películas Top Five, Fired Up! y Hancock. También es una activista vegana que ha modelado para el catálogo de MFA y ha aparecido en algunos de nuestros videos.
18. Lauren Jauregui
Lauren Jauregui, miembro del grupo Fifth Harmony,
anunció hace poco en Twitter
que estaba probando la alimentación vegana. En respuesta a una pregunta sobre su rutina de ejercicios, la cantante de 21 años tuiteó: "De hecho, he estado comiendo más sanamente. Haciendo mi mejor esfuerzo para hacerme vegana".
19. Børns
El cantante vegetariano de 26 años le dijo a la
revista
Eighty-Nine
 que su madre, una chef vegetariana y nutricionista de alimentos crudos, le había enseñado a preparar deliciosos platillos a base de plantas.
20. Kat Graham
La actriz de 28 años de la serie The Vampire Diaries es una orgullosa vegana que ha apoyado a numerosas organizaciones para defender a los animales.
21. Evanna Lynch
A los 26 años, la estrella de Harry Potter es una comprometida activista vegana. Lynch ha trabajado con MFA en el pasado, asistió a nuestra gala anual e incluso invitó al fundador de MFA, Nathan Runkle, a su podcast.
22. Danielle Brooks
El año pasado, Danielle Brooks, que interpreta a Taystee en Orange Is the New Black, utilizó sus redes sociales para decir que estaba disfrutando de la "vida vegana". Si bien no sabemos qué llevó a Danielle al veganismo, sabemos con seguridad que le encanta. La actriz de 28 años ha compartido fotos de deliciosos platillos veganos con sus millones de admiradores en Instagram y Twitter.
—
Únete a estas increíbles celebridades jóvenes y ayuda a cambiar el mundo de los animales confinados en granjas. ¡Visita nuestro
Centro de Acción
!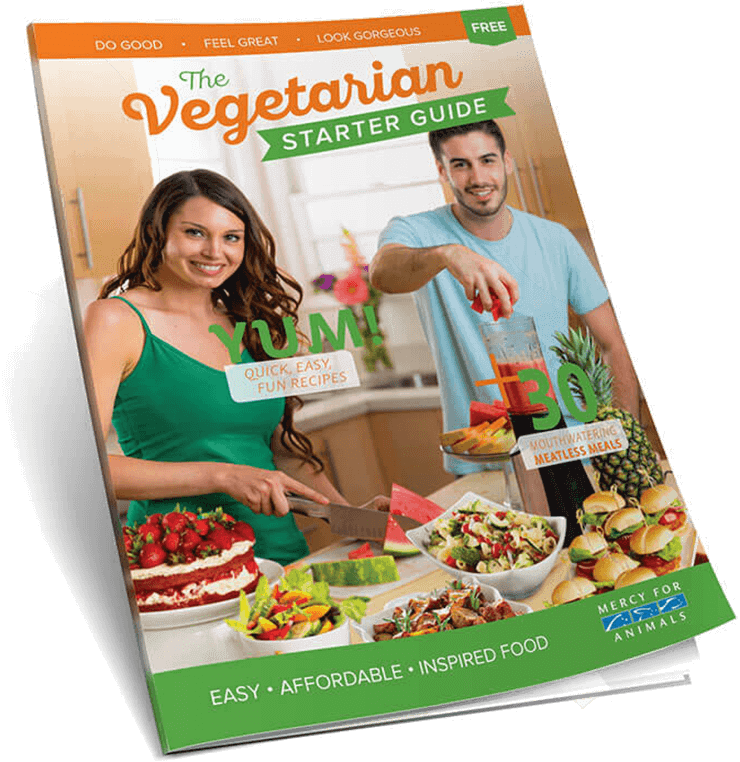 Obtén tu Guía vegetariana para principiantes
Al ingresar tus datos, recibirás información, consejos ¡y mucho más!